Trauma Healing: This is Our Time Web-a-thon
November 19, 2020 – 2:00 pm – 8:00 pm
Please note: all times are listed in Pacific Standard Time (West Coast USA) and minor time changes are to be expected.

2:00 – 2:30 pm – Welcome with Dawn McIlwain & Elaine Walters, Trauma Healing Project staff
Dawn McIlwain, Healing Arts and Wellness Program Coordinator at the Trauma Healing Project
Dawn first connected with the Trauma Healing Project as an artist, and then as a volunteer Reiki practitioner. In 2014 she joined the THP staff and now coordinates the provision of healing arts and wellness services and also facilitates a monthly Dancing Mindfulness class. Dawn brings with her a passion for being of service and considers it a privilege to work with others on their healing journeys, whether this means listening, witnessing their healing process, or being able to work directly with participants. Dawn is a Usui & Holy Fire Karuna® Reiki Master Teacher and cross-cultural Shamanic practitioner, with a private practice in Eugene and is also a multi-media artist.  Dawn also co-facilitates self-care retreats and is a certified Dancing Mindfulness facilitator.
Elaine Walters, Founding Executive Director of the Trauma Healing Project
For over 28 years Elaine has been a consultant, trainer and community organizer working to address and eliminate intimate violence and abuse, and to promote and support healing. She has designed and facilitated workshops and trainings on many related topics and has provided direct services and support to youth and adults impacted by violence, abuse and other forms of trauma and oppression. Beginning in 2004 she led a coalition of survivors, providers, students, activists and researchers through a process that would establish the Trauma Healing Project, an organization that provides professional and community training and direct healing support for survivors. Through the Trauma Healing Project, she continues to be involved in efforts to raise awareness, expand accessible trauma healing resources, and implement trauma-informed care locally and regionally.
2:30 – 3:15 pm – Nadia Telsey & Eric Ward
Nadia Telsey, Anti-Violence Activist and National Pioneer in Empowering Women in Self-Defense

Nadia Telsey is a co-founder of the NWMAF (National Women's Martial Arts Federation) and the Center for Anti-Violence Education in Brooklyn. She has been involved in the anti-violence movement since the 70s, most recently teaching Empowerment Self Defense in Eugene, Oregon including 17 years at the University of Oregon. She is the author of  Self-Defense from the Inside Out and a safety and well-being curriculum for people with developmental disabilities. Most recently she has been giving workshops on Bystander/Upstander Intervention and concentrating on racial justice work.
Eric Ward, Executive Director of Western States Center

A nationally-recognized expert on the relationship between authoritarian movements, hate violence, and preserving inclusive democracy, Eric brings over 30 years of leadership in community organizing and philanthropy to his roles as Western States Center's Executive Director and Senior Fellow with Southern Poverty Law Center and Race Forward. Since he took the helm in 2017, Western States Center has become a national hub for innovative responses to white nationalism, antisemitism, and structural inequality, towards a world where everyone can live, love, work, and worship free from bigotry and fear. Eric is working on a forthcoming documentary about whiteness and race in America and is an aspiring singer-songwriter under the name of Bulldog Shadow.
3:15 – 3:45 pm – Eli Clare
Eli Clare, Distinguished Visiting Scholar, University at Buffalo's Center for Diversity Innovation

White, disabled, and genderqueer, Eli lives near Lake Champlain in occupied Abenaki territory (also known as Vermont) where he writes and proudly claims a penchant for rabble-rousing. He has written two books of creative non-fiction and a collection of poetry, and has been published in many periodicals and anthologies. Eli speaks, teaches, and facilitates all over the United States and Canada at conferences, community events, and colleges about disability, queer and trans identities, and social justice. Among other pursuits, he has walked across the United States for peace, coordinated a rape prevention program, and helped organize the first ever Queerness and Disability Conference.
3:45 – 4:30 pm – Patty Wipfler & Juan Carlos Areán
Patty Wipfler, Founder and Program Director at Hand in Hand Parenting

In 1989, Patty founded the non-profit Parents Leadership Institute, which evolved into Hand in Hand Parenting. Her many booklets, videotapes, audiotapes, podcasts, and articles bring the principles and benefits of Parenting by Connection to parents around the world. She authored the Building Emotional Understanding and Understanding Tears and Tantrums courses, which have transformed the lives of many thousands of parents and children in the U.S. and abroad. As Founder and Program Director, Patty writes, speaks, trains parent leaders, and develops resources for parents to help them lift difficulties from their children's lives and their own.
Juan Carlos Areán, Program Director for the Children & Youth Program at Futures Without Violence

Juan Carlos' areas of expertise include engaging men to end violence, working with DV offenders, the intersection of fatherhood and DV, cultural approaches to end violence, facilitation, and curriculum writing. He was previously the Director of the National Latino Network at Casa de Esperanza and the Sexual Assault Prevention Specialist at Harvard University. Juan Carlos is an active trainer who has led hundreds of workshops and presentations throughout the United States, the Americas, and the Caribbean, as well as in Europe and Asia. A person of many interests, he is an ordained interfaith minister and holds a master's degree in music composition.

4:30 – 5:00 pm – Sandra Bloom
Sandra Bloom, Founder of the Sanctuary Model and Associate Professor at Dornsife School of Public Health, Drexel University

Sandy is a Board-Certified psychiatrist and is recognized nationally and internationally as the founder of the Sanctuary Model. She is Past President of the International Society for Traumatic Stress Studies and is currently co-chairing a new (2016) national organization, the Campaign for Trauma-Informed Policy and Practice (CTIPP), whose goal is to advocate for public policies and programs at the federal, state, local and tribal levels that incorporate up-to-date scientific findings regarding the relationship between trauma across the lifespan and many social and health problems. She has helped over 350 organizations and programs in the US and beyond, implement the Sanctuary model, including children's programs, mental health programs, schools, domestic violence shelters, group homes, and homeless shelters.
5:00 – 5:30 pm – Carole Warshaw

Carole Warshaw, Director of the National Center on Domestic Violence, Trauma & Mental Health
Carole has been at the forefront of building system capacity to address the mental health, substance use, and advocacy concerns of survivors of DV and other trauma and to create accessible, culturally responsive, DV and trauma-informed services and organizations. She has written and spoken extensively on these topics and has served as an advisor to numerous organizations and federal agencies. Dr. Warshaw maintains a private practice in psychiatry and is a faculty member in the Department of Psychiatry at the University of Illinois.
5:30 – 6:15 pm – Fariborz Pakseresht & Don Erickson
Fariborz Pakseresht, Director of the Oregon Department of Human Services (ODHS)

As Director, Fariborz is responsible for overseeing the operations of the largest state agency comprising of five program areas, 9,500 employees, and serving over one million Oregonians. ODHS serves some of the most vulnerable Oregonians along the entire continuum of life with the goal of safety, health and independence for all Oregonians.  For the past decade, he has focused on system improvement, outcome-based management, and people centered leadership. Fariborz is currently overseeing the development of an organizational culture organized to embrace wellbeing, caring and support, empowerment and accountability, equity and inclusion, meaningful engagement, and community connection. His interests include management theories and practices, personal and organizational change, human potential, communications, quantum physics, and mindfulness.
Don Erickson, Chief Administrative Officer of the Oregon Department of Human Services (ODHS)
In addition to his duties in managing statewide operations and participating on the ODHS executive team, Don led the effort to complete a trauma informed organization policy that was implemented in 2019. That policy now commits the organization and provides a roadmap for a process of maturing as a trauma informed organization. Don is also leading the initiative to provide each of the 9,500 ODHS staff with suicide prevention gateway training. That training is now available to all ODHS staff statewide.. He is a nationally certified trauma specialist and is an authority on the treatment of post-traumatic stress, trauma informed care and suicide prevention.
6:15 – 7:15 pm – Gabor Maté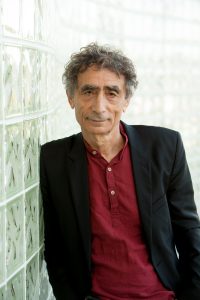 Gabor Maté is is a retired physician who, after 20 years of family practice and palliative care experience, worked for over a decade in Vancouver's Downtown East Side with patients challenged by drug addiction and mental illness. The bestselling author of four books published in twenty-five languages, Gabor is an internationally renowned speaker highly sought after for his expertise on addiction, trauma, childhood development, and the relationship of stress and illness. His book on addiction received the Hubert Evans Prize for literary non-fiction. For his groundbreaking medical work and writing he has been awarded the Order of Canada, his country's highest civilian distinction, and the Civic Merit Award from his hometown, Vancouver. His books include In the Realm of Hungry Ghosts: Close Encounters With Addiction; When the Body Says No; Exploring the Stress-Disease Connection; Scattered: How ADD Originates and What You Can Do About It; and (with Gordon Neufeld) Hold on to Your Kids: Why Parents Need to Matter More Than Peers.
7:15 – 8:00 pm – Local Leaders, Practitioners & Champions – Closing Panel